After I successfully managed to get RuuviCollector service running, this is all it says. Same stuff as it said before running as service (originally it ran in terminal)
This is from syslog
Dec 27 12:01:02 Jarno-Linux systemd[1]: Started Ruuvi Collector service[Service].
Dec 27 12:01:02 Jarno-Linux java[21221]: 2020-12-27 12:01:02.263 DEBUG [Config] Tag names: /home/eireannanl/Ruuvi/ruuvi-names.properties
Dec 27 12:01:02 Jarno-Linux java[21221]: 2020-12-27 12:01:02.265 DEBUG [Config] Config: /home/eireannanl/Ruuvi/ruuvi-collector.properties
Dec 27 12:01:02 Jarno-Linux java[21221]: 2020-12-27 12:01:02.283 DEBUG [Main] Starting scan with: [hcitool, lescan, --duplicates, --passive]
Dec 27 12:01:02 Jarno-Linux java[21221]: 2020-12-27 12:01:02.284 DEBUG [Main] Starting dump with: [hcidump, --raw]
Dec 27 12:01:02 Jarno-Linux java[21221]: 2020-12-27 12:01:02.284 INFO  [Main] BLE listener started successfully, waiting for data...
Dec 27 12:01:02 Jarno-Linux java[21221]:  If you don't get any data, check that you are able to run 'hcitool lescan' and 'hcidump --raw' without issues
Dec 27 12:01:02 Jarno-Linux java[21221]: 2020-12-27 12:01:02.668 INFO  [Main] Successfully reading data from hcidump

and this is from terminal with status command
 ruuvi-collector.service - Ruuvi Collector service[Service]
     Loaded: loaded (/etc/systemd/system/ruuvi-collector.service; static; vendor preset: enabled)
     Active: active (running) since Sun 2020-12-27 12:01:02 EET; 8min ago
   Main PID: 21221 (java)
      Tasks: 24 (limit: 18776)
     Memory: 55.5M
     CGroup: /system.slice/ruuvi-collector.service
             ├─21221 /usr/bin/java -jar /home/eireannanl/Ruuvi/ruuvi-collector-0.2.jar
             └─21266 hcidump --raw

joulu 27 12:01:02 Jarno-Linux systemd[1]: ruuvi-collector.service: Succeeded.
joulu 27 12:01:02 Jarno-Linux systemd[1]: Stopped Ruuvi Collector service[Service].
joulu 27 12:01:02 Jarno-Linux systemd[1]: Started Ruuvi Collector service[Service].
joulu 27 12:01:02 Jarno-Linux java[21221]: 2020-12-27 12:01:02.263 DEBUG [Config] Tag names: /home/eireannanl/Ruuvi/ruuvi-names.properties
joulu 27 12:01:02 Jarno-Linux java[21221]: 2020-12-27 12:01:02.265 DEBUG [Config] Config: /home/eireannanl/Ruuvi/ruuvi-collector.properties
joulu 27 12:01:02 Jarno-Linux java[21221]: 2020-12-27 12:01:02.283 DEBUG [Main] Starting scan with: [hcitool, lescan, --duplicates, --passive]
joulu 27 12:01:02 Jarno-Linux java[21221]: 2020-12-27 12:01:02.284 DEBUG [Main] Starting dump with: [hcidump, --raw]
joulu 27 12:01:02 Jarno-Linux java[21221]: 2020-12-27 12:01:02.284 INFO  [Main] BLE listener started successfully, waiting for data...
joulu 27 12:01:02 Jarno-Linux java[21221]:  If you don't get any data, check that you are able to run 'hcitool lescan' and 'hcidump --raw' without issues
joulu 27 12:01:02 Jarno-Linux java[21221]: 2020-12-27 12:01:02.668 INFO  [Main] Successfully reading data from hcidump

Anyway, I created that hcitool file (with "touch hcitool) and copied it to /usr/bin/ (backed up original one). It seems that there's no change. Does it matter that files has different icons because of different filetype? "hcitool" is plain text document" while "hcitool.original" is shared library.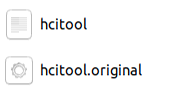 Ps. I know that InfluxDB works as I get data from Telegraf (From both local and client)
I tried "storage.method=dummy" in "ruuvi-collector.properties" but I have no clue where that dummy log would go. At least in "/var/log/" doesn't have any log which would point to that.