I have two different raspi3s in different locations, 100m appart in different buildings. Ruuvi Collector on both and they are collecting to my "own cloud" where I have InfluxDB and grafana.
To the problem, I have spikes in data from one of my two raspis. I have 5 tags in one location and one tag in the other location. I never have any type of spikes in data at my home location (5 tags) but on the other location (1 tag) I always have spikes in data. If I take one tag from my home location and put it in the other location both get spikes, so the tag itself is not the problem its the raspi and collector.
In this picture I changed the location on garaget tag to the other location at the black line and as you see, after an hour I have spikes in both.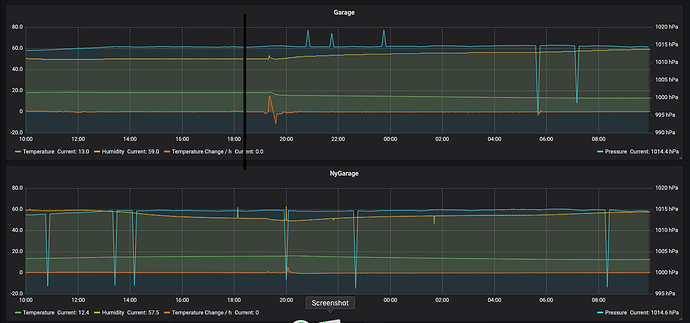 There are one difference in the RPI setups, the one at home has the ruuvi image, the other pi (problem pi) is made according to this guide: GitHub - bostrom/ruuvi-on-aws: Instructions and a Terraform project for setting up ruuvi-collector on a Raspberry Pi with InfluxDb and Grafana in AWS @bostrom
Anyone having similar problems? Any ideas how to fix this issue?
/Andre'