Long story short, I finally got my hands on a Ruuvi Gateway and I wanted to use it as a drop-in replacement for my RuuviCollector setup, with better support for Home Assistant so I created this project called RuuviBridge which acts as a "data bridge" between various sources and consumers of data. You can use this software without having a physical Ruuvi Gateway device by using a compatible gateway software, such as the ruuvi-go-gateway.
The basic idea is that there are configurable sources of data, right now it supports polling the Ruuvi Gateway directly (if you don't have a MQTT server), or subscribing to a MQTT topic where the Ruuvi Gateway is configured to feed the received data (recommended option), but I may add more in the future.
Data from each source is then parsed into a "common format" and optionally processed, by default the processing includes calculating "extended values" such as dew point, absolute humidity, air pressure, total acceleration and so on, which is the same as with RuuviCollector.
After the processing step the data is sent to each configured consumer of data, which include InfluxDB (in RuuviCollector format), Prometheus, and MQTT. The MQTT part optionally includes creating Home Assistant MQTT Discovery topics for automatically configuring the tags as devices with all available values as sensors, with properly configured names, units, icons and other attributes.
The automatically created devices in Home Assistant have data that look like this: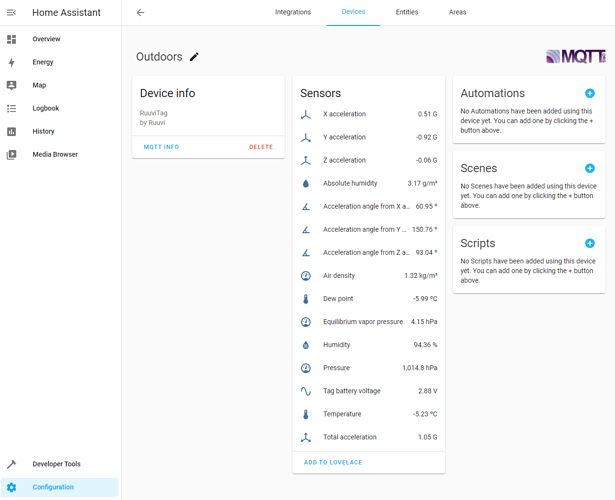 Allowing you to create all kinds of dashboards with ease: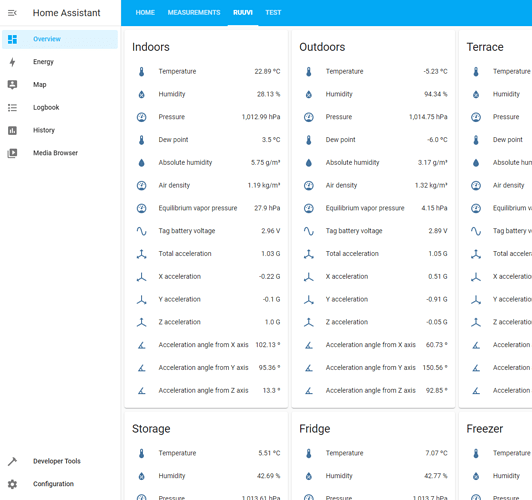 With all relevant attributes properly configured for the entities: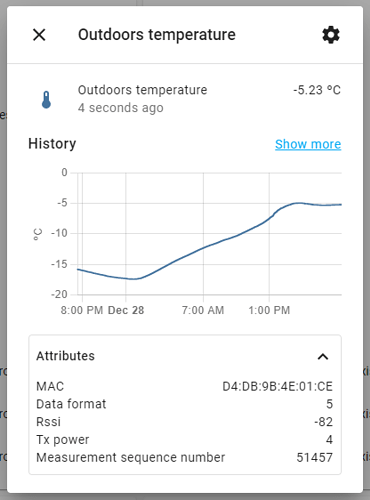 Note that some details are subject to change if I figure out some improvements or someone has some feedback.
Any feedback, improvement ideas and questions are welcome

The documentation is a bit crude at the moment but I'll be improving it over time.