Hi there,
I've recently posted a question about how to enable FIFO interrupt on the latest firmware.
Then, following @otso's suggestions, I've managed to make it work.
Currently, I'm trying to compare the battery consumption of FIFO interrupts on the latest firmware with an older version of the Ruuvitag firmware, using Nordic Power Profiler Kit.
The older firmware was set to transmit a BLE advertisement every 10 seconds. Additionally, the accelerometer's sampling rate was set to 50Hz, while the resolution was set to 12 bit. I used the same settings on the latest firmware in order to get a fair comparison.
Here's a screenshot I took some time ago, using the older firmware:

There are a bunch of peaks at ~4mA which are due to the FIFO interrupt firing every 32/50=0.64 seconds.
The 10mA peak is caused by the BLE advertisement which occurs every 10 seconds.
Here's another screenshot using the latest firmware (slightly modified in order to change the BLE advertisement interval and the accelerometer's sampling rate and resolution):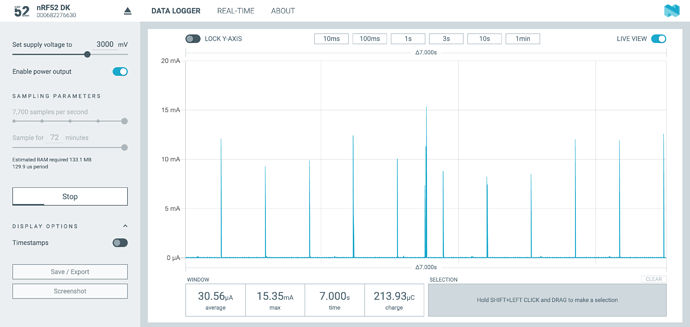 So, it seems that the FIFO interrupt consumption has raised to ~10mA (the ~15mA peak should be due to the BLE advertisement, NFC write and GATT in the heartbeat function), from the ~4mA in the previous screenshot.
I was wondering, is that increase in battery consumption expected or am I missing something? Any help would be greatly appreciated.
Thanks