Hi,
so, adding "temperature" in "field(value)" didn't work.
We showed the project to our teacher and his opinion was that somehow the RuuviCollector isn't sending data. Now we are trying to build the ruuvicollector again, but now the building is giving errors/failures.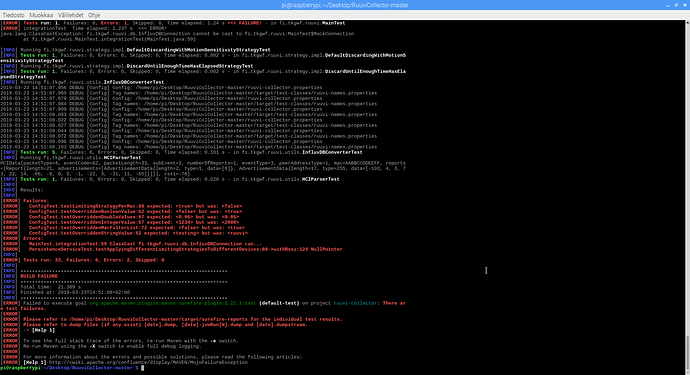 We then tried modifying the values inside ruuvicollector properties file, and with modifying "influxBatchMaxSize=2000" to 1234 and "limitingStrategy.defaultWithMotionSensitivity.threshold=0.05" to 0.06. This got rid of two "failures". The building worked without properties file, but that didn't give any data last time so that's why we are trying to get this to work with the properties file.
Also, continuity to my last problem, hcitool. We noticed/remembered that line "sudo setcap 'cap_net_raw,cap_net_admin+eip' which hcidump gave an usage error for setcap.