In this project we (Centria University of Applied Sciences / R&D) created Ruuvitags scanner for Android devices (supporting OS version 4.4.2 and later). This application scans for beacons around that have Eddystone URL starting with "https://ruu.vi/#" and displays them on screen (with their sensor data). To scan beacons application uses alt-beacon library and is written entirely as native Android application.
We use this in research, to monitor environment within buildings and outside.
Application has following features:
Possibility scan beacons while app is running in background mode
Datalogging into graph view, all detected beacons and their data is logged to appropriate views for comparison
Sends beacon scan data to dweet.io for other IoT platforms to use (like freeboard.io)
Appealing UI
Some hidden bugs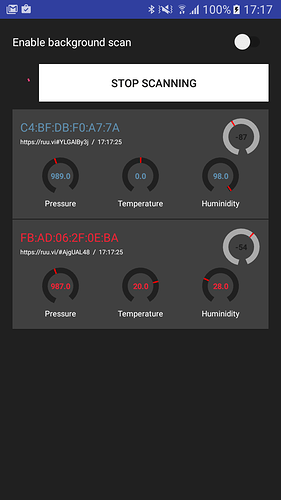 Source code and more images to come!