Hey,
I've been running an early RuuviTag outside for simple weather monitoring for a couple of years now, logging via Node-RED to MQTT, InfluxDB and a custom dashboard.
Suddenly this afternoon, it plummetted to roughly -13.7ºC from around +7ºC, and equally weird humidity readings. I've taken down the RuuviTag and checked the battery – ~2.82V according to my multimeter – and checked the raw readings… not good. It has been raining (100% rH) but inside the case it wasn't wet.
I DFU'ed to the Beta firmware 2.5.9 and updated my decoding script to RAWv2, and it's still bad, I think.
The data is:
[0x5,0x91,0x4c,0x26,0x9e,0x61,0x9f,0x0,0x1c,0x0,0x0,0x4,0x10,0x97,0xf6,0x8,0x0,0x3,0xfd,0xfa,0xb0,0x9,0x23,0x80]; which appears to be well-formed. In that, 0x914c would be the temperature in 0.005ºC, which is well out-of-range for indoors… -22.14ºC ? The voltage, 1.6 + (0x97f6 >> 5)/1000 is 2.815V, which is correct, so I'm fairly sure it's just the temperature sensor giving bogus values.
The Grafana chart for the past two days shows where it went bad: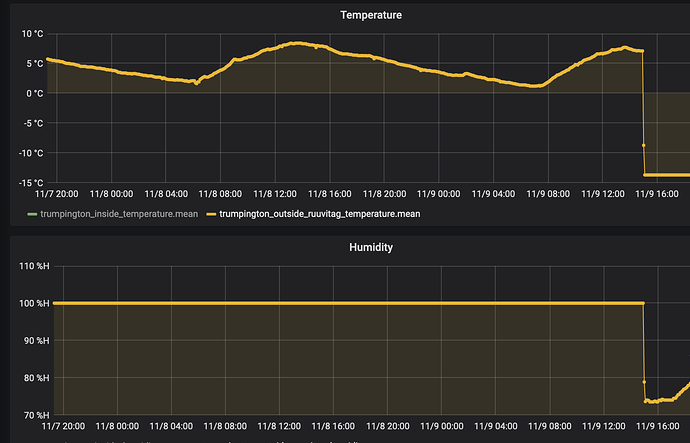 So, is a sensor suddenly going bad a thing? What should I do about it?
Much appreciated!
Tom
EDIT: Pressure's bad too. Currently reporting 751.5 mbar.