A few days ago no. 8 of my 21 RuuviTags started showing erroneous RH values (~80% instead of below 30%), so I replaced it with another one. Since it has been a while, I collected all 21 of them on my desk to check against some calibration solutions.
After checking 43% and 62% (and some on 58%) I decided to forget about the third point with 75% salt solution and call it a day.
Here you can see the last 14 days, where no. 8 starts misbehaving at some point April 7. No,. 1 and 2 are shown as reference, these three are not at the exact same location so values don't have to exactly match.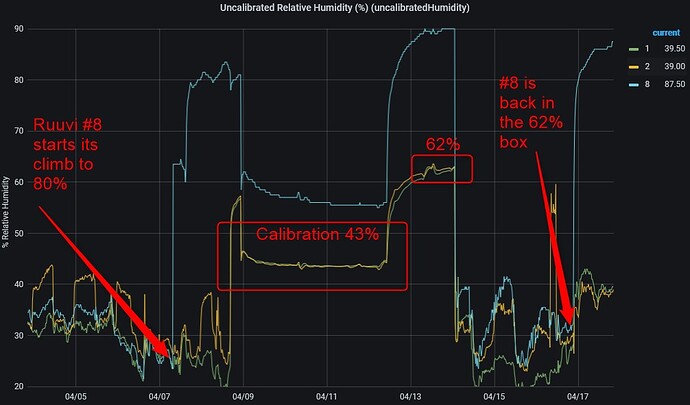 A few days went by and unfortunately yesterday two more RuuviTags started to show the same problem. Strangely, it's no. 6 and no. 7, so probably from the same batch. Could be coincidence who knows. The newer ones (I believe 16+) are a newer PCB design and battery clip.
RuuviTag #6 & #7 last 2 days shown here: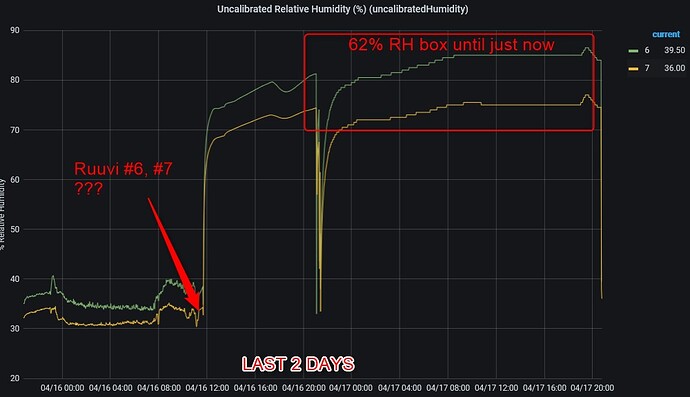 Note (a) that they went haywire exactly the moment I carried them from the dry room to a more humid environment and put them into a 62% RH box (I had only calibrated them to 43% or 58% the days before as I had two groups of Ruuvi's and a group of 10 zigbee AqaraTH sensors).
Also note (b) that they seem to recover on low humidity, as you can see when I took them out for a few minutes to change to new batteries (turned out these batteries where relatively new anyway, but replaced them just to make sure).
I took them out of the 62% box along with the others around 35 minutes ago and now they show 32.5% and 36.5%, while the others are showing 28-31%. That would almost be acceptable.

I'll probably put them in the 43% solution now just to see what they do compared to the others. I'll update this post tomorrow.
In the datasheet it says reconditioning is recommended after exceeding the operation range.
If you confirm reconditioning might help clearing possible deposits on the sensor, we could just try it. Or if you have the means to do so already set up, I could just ship them to you since I can't use them anyway.
Baking 120C <5%: I would use a baking oven that stays more or less stable at 120C, but some fluctuations are unavoidable (ie. +/- 10C). If needed I could put the RuuviTag into a box with silica gel before/during baking.
24h @25C 75% RH: Salt solution on top of fridge or heater, still thinking about this one. Probably also helps using a small room and setting room thermostat to 25C.
Questions:
How accurate and stable do the 120C have to be?
How accurate/stable do we need 25C for 24h?
Does the RuuviTag/BME280 need to be running (ie. I need to wire a power source into the oven)?
Do we start counting 24h when we close the box or at saturation? (which might take a few hours)
Some more notes:
Temperature range when

#8

,

#6

and

#7

"broke" was between 20-26C, so nothing unusual.
The weather was very dry, unusual dry. Our RuuviTags usually don't see such low RH values all year long. Not sure if this is important (ie. BME280 "firmware" doing some correction it shouldn't).