Hi there! It's been a long time since I last visited here…
Back in 2017 I bought six Ruuvitags that I have been using happily ever after. I never calibrated them against any reference measurement devices but I got used to them giving very consistent readings: when the weather has been perfectly still for a while and there was no sun, all sensors scattered in different parts of my hilly piece of land would show exactly the same temperature within 0.1-0.2 degrees, also the pressure readings from sensors located at different altitudes would stack up perfectly in order of increasing altitude - even one meter difference in altitude is perfectly noticeable.
Now I bought six more and started placing them on my plot. I noticed that one of them was giving noticeably (about two degrees) lower temperature than expected, then I noticed that the pressure is also substantially off compared to other sensors. I put two new sensors and two old sensors side by side on a table and waited for a few hours for the temps to level out. Here's what I see: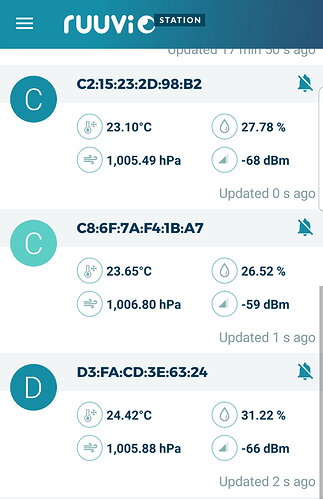 The two top sensors are new sensors, the third one is an old one, the other old one did not fit in the screen but it shows almost EXACTLY (within 0.1C) the same temp and pressure than the first old one. As you can see, the two new ones show two different temps (>0.5 degree difference) and very different from what the old one shows (>1 degree). The pressure is also all over the place.
The new ones run factory firmware, the old one runs v2.5.9.
The question is: what's going on?