Hi all, so I've been working on adding Ruuvi beacons to our SpotSense web app and SDK (http://spotsense.io/beacons.html) as proximity beacons.
It's a beacon management dashboard that acts as a simple "if this then that for proximity beacons" (i.e if an app user enters the range of the beacon → Trigger a notification and send the "enter" event to Mixpanel). Since the Ruuvitag has a bunch of different sensors on it, I'm thinking of adding sensor readings as a trigger on the platform i.e if the temperature falls below 32° → Send event to my Amazon S3 bucket, etc.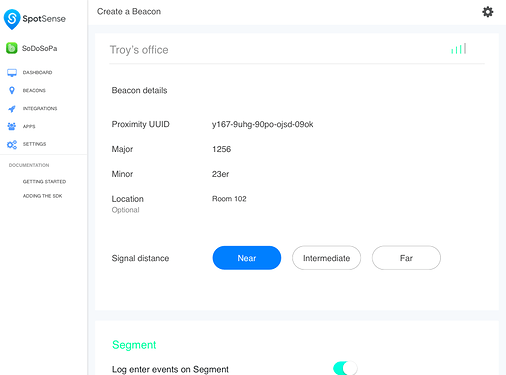 This is a snapshot of the dashboard view so far. After adding the SpotSense SDK to your mobile app -> adding your Ruuvitag, you can control what you want to happen when a user comes in contact with the device. Here I have it sending the
beacon_region_enter
event to Segment (
www.segment.com
) where I can integrate it into over
200 other destinations
.
This started out as a geofencing platform but having it as an easy way to manage your Ruuvitags as well. It fits in well with the current platform and would be super fun to have if you want to get started with Ruuvi.
We're going to launching a beta here soon with the full beacon functionality and would love to get your input. If you're interested in trying it with your Ruuvitags, sign up for the waitlist on the SpotSense website!