Thanks for updated image, it works fine now!. Just few observations:
If you have latest Raspberry 3B+ , it is not able to boot with that (http://storage.ruuvi.com/ruuviberry_2018_04_18.img.zip) image. Most straightforward way to get it working is to boot older raspberry with the image installed on Micro-SD card and run
$ sudo apt update
$ sudo apt upgrade
After update, you may boot 3B+ with the card.

Tags work reliably with 3B+, but just as a side note, there seems to be temperature compensation problem with tags. I have one tag monitoring Green House where temperature changes during the night. That seems to affect readings that should be otherwise stable, like battery voltage and acceleration. See graphs (Brown line is Green house, others are inside the house).
Temperature: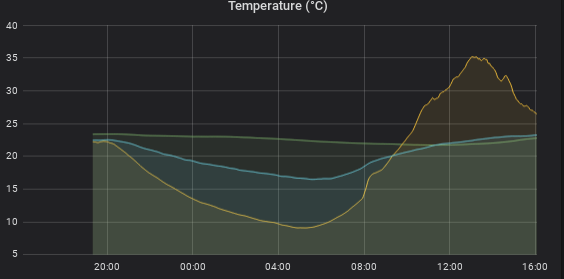 (as a new user I have to upload other images in separate posts below)
As you can see Acceleration changes only with GreenHouse sensor but no others (so it's not moon affecting Earths G).
Is/should Ruuvi use voltage regulator instead of relying on battery voltage, which is known (because of Lithium) to be affected on Temp. In Bosh chip data sheet there is instructions on compensation of readings, are they applied? I haven't check accelerometer chip data sheets what it says about compensation.
Our tomatoes can live with this error, but if more certainty on readings is needed, one way is to (Temp) calibrate sensors and apply corrections to DB.
Nice work with Ruuviberry image and Ruuvi Collector!
PS: In case someone has Bluetooth problems with PI after using BT keyboard or mouse, you must 'unpair' them first, to allow BT adapter to go to HCI-mode. Wireless keyboards etc. are HID devices and cannot be used at the same time (not even configured).